Next generation of innovators inspired by Nexus schools initiative
Students from across Leeds have celebrated their success in the culmination of an innovative and entrepreneurial programme from regional innovators at Nexus with Leeds-headquartered social enterprise Ahead Partnership. Last week saw 15 students from Dixons Unity Academy crowned the winners of Solution for Leeds, a pioneering challenge designed to stimulate young people's creativity and enhance employability skills through a sustainable, community-focused business brief.
Sponsored by Nexus, the programme challenged Year 10 students to pitch a business or project idea to a panel of experts that would support post-pandemic economic recovery. Designed to develop creativity, entrepreneurship and tech skills amongst young people within a real-life context, the challenge encouraged students to consider the changes their worlds will experience as a result of the pandemic, the futures they will inhabit and their roles in the wider community.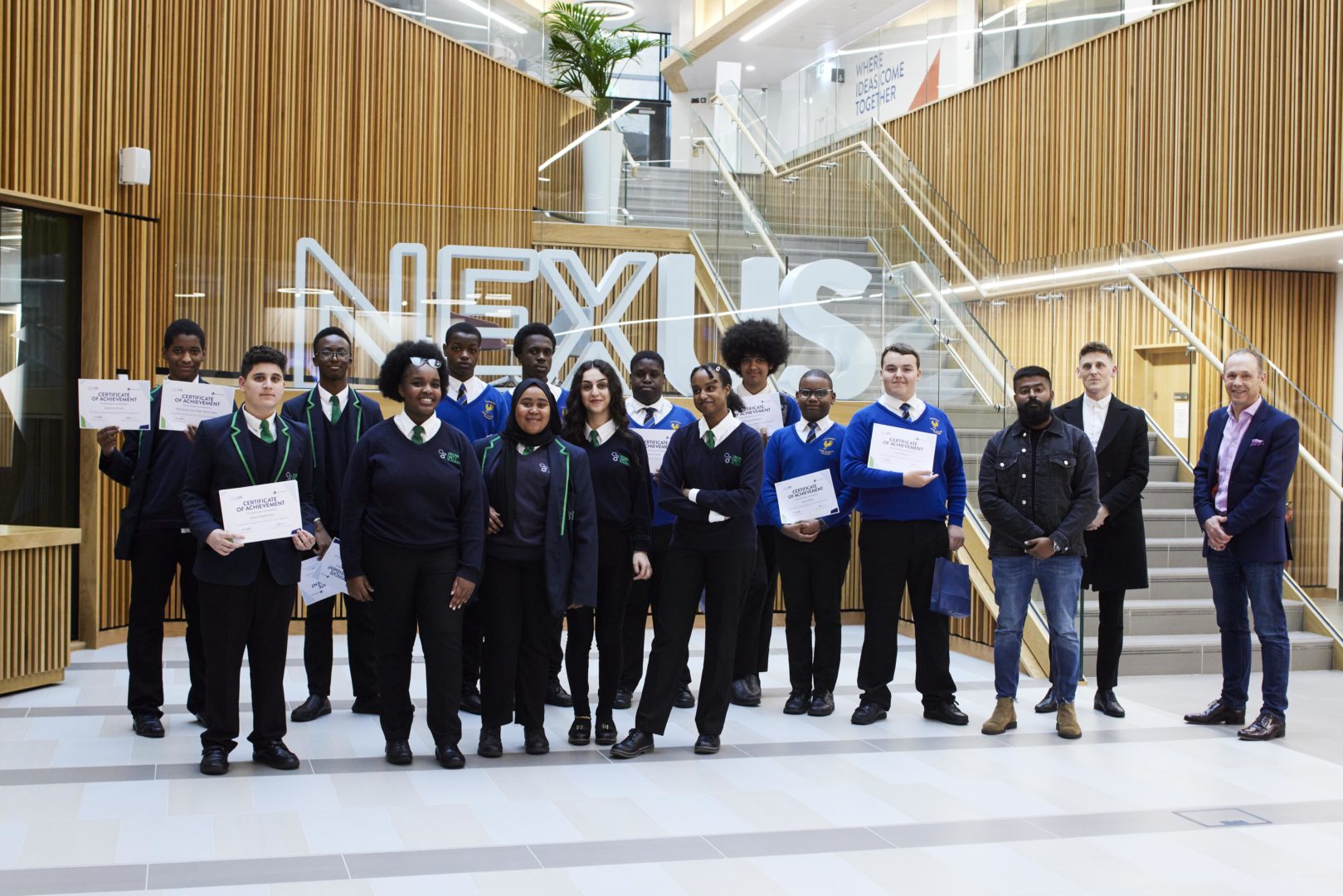 Since mid-June, teams of students from Dixons Academy Unity and Cockburn John Charles Academy have been undertaking virtual concept creation sessions and interactive workshops, receiving one-to-one guidance online from experts and innovators within the Nexus community. Moving from concept through to competition, students were then invited to present their ideas to a judging panel from the Nexus community and from Leeds City Council at a finale on 28 September, with innovation and creativity remaining at the heart of the pitching process.
The judging panel chose students from Dixons Unity Academy as the winner with their inventive idea 'Dixons Support', which centred around encouraging Leeds businesses to sponsor a food waste and clothing distribution service in response to requests for support that the school had received from their local community during the pandemic.
Suzie Bell, Project Manager at Ahead Partnership, a social enterprise that works with businesses of different sizes and sectors to design and deliver social value projects that create positive change within society, said: "Throughout the past year, innovation is something that has really come to the fore across our society, from businesses finding new ways to operate to individuals deciding to take the leap and turn their big idea into a reality.
"Nexus is an organisation with innovation at its core, so it's been fantastic to partner with them to engage young people and foster their entrepreneurial and employability skills through Solution for Leeds. Taking this brief and honing their ideas into something that could make a really positive change to their community has been a formative experience for the students involved and we are thrilled that Nexus are working with us to inspire future innovators."
Dr Martin Stow, Nexus Director, said: "We were thrilled to support this project and see what innovative ideas and creative solutions the student teams came up with.
They are the future guardians of the critical issues we face around personal wellbeing, wider community responsibility and global climate challenges and it is only through sharing ideas and working collaboratively that we can begin to meet those challenges.
All of the participating teams were brilliant and the Nexus community really enjoyed working with them to share our expertise and learn from their perceptions and insights. Our students are tomorrow's researchers and entrepreneurs and as we work to rebuild economies post-pandemic, their take on the challenge of sustainability and the power of communities will be crucial."
---